Adventure Ropes Course Safety Rules
Views: 9 Author: Site Editor Publish Time: 2018-03-23 Origin: Site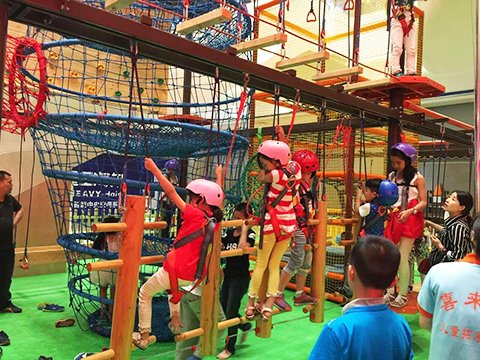 Adventure Ropes Course is a healthy and fashionable experience for young people. It absorbs the international popular concept of expansion and combines sports, expansion, entertainment and education. The rope course playground is an innovative outdoor quality education base for teenagers to put themselves in an exciting and safe environment.
Adventure ropes course is designed according to the characteristics of children, through a scientific three-dimensional combination to form a new generation of kids playground, which integrates recreation, sports, intelligence and fitness.
Rope course playground is conducive to giving full play to vitality and imagination, but Safety is the First Priority when you are playing in the rope course playground, please follow the Adventure Ropes Course Safety Rules below:
1. Adult supervision is required at all the rope course play times
2. Must be healthy and in excellent physical condition to participate the adventure rope course
3. Maximum weight requirement is 300 lbs
4. Mimimum height requirement is 48" or accompanied by an adult
5. Problems or are unsure about your state of health
6. No running, jumping, hanging in harness or horseplay
7. Do not touch overhead tracking system
8. Sling line must remain in front of and in between your shoulders
9. Shirt, shorts or pants are required - NO swimsuits or wet clothing
10. Shoes must be closed toe and secure, no open-heal or flip flops
11. Remove loose items i.e. jewelry, glasses, cameras, & cell phones
12. Eating, drinking or gum chewing is prohibited
13. Riding under the influence of drugs or alcohol is prohibited
14. Do not enter into restricted or unauthorized areas
15. Do not participate rope course if you have any form of physical or medical
16. Must be safely fit in the harness by operator
17. In the event of evacuation, remain calm and follow the operator's instructions for a safe exit
Failure to follow directions from staff will result in removal from premises with no refunds. If you have any questions in the process of ropes course game, please tell the operator near you in time.
Yongjia Xiujiang Playground Co., Ltd. is a professional China adventure ropes course manufacturer, it takes many years of experience in the playground industry to fully understand the safety standards, in order to truly implement and incorporate them correctly in the kids playground ropes course design and manufacturing process.
Therefore, we always put quality as the first consideration, and all indoor playground equipment products have to pass strict inspection before they go out. After production and delivery, we send installation technician to do installation in abroad as well. More information, please feel free to contact us.