Amusement Park Indoor Playground Equipment for Toddler in Romania
Views: 23 Author: Site Editor Publish Time: 2018-08-08 Origin: Site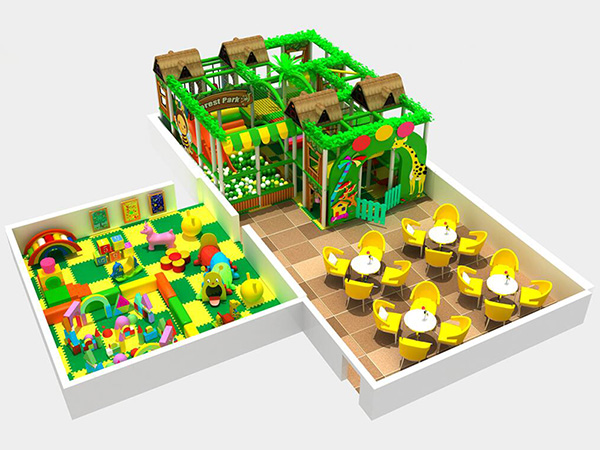 Indoor Playground is a kind of kids gym for children to have fun. Children can not only have a good time at amusement park, but also they can strengthen their bodies by various playing equipment at indoor playgrounds. This is the reason why a lot of business men are willing to invest to this kind of project. More and more parents attach importance to kids'education as well.
We write the article for introduce one of the indoor playgrounds that we have made for customers. As shown in the pictures, this is a simple indoor playground, which is designed with two floors and jungle theme color. Although it is not a large space, its bright color looks attractve.
There are several main constituent parts. Let's see the ocean balls pit part. There is a balls pit,which is not big and about in size 6.5 square meters for the balls pit. Kids can go through via that rainbow bridge and get to the platform and slide down from that two-people slide or from the rainbow ladder. There are eight punching bags above the balls pit. We call it "forest adventure game".
The another part is trampoline. Trampoline is the most common equipment which can be seen at indoor playgrounds. Kids are able to strength their calf muscle. Going across the second floor, there is a net grid bridge here.Net grid bridge is firmer and stronger than ordinary ones.
The last main part is the toddler area. The toddler area is about 36 square meters, at whichthere is a buiding blocks area.Building blocks can improve kids' intelligence and manipulative ability. There are many soft children toys can be seen around the buidling blocks. The caterpillar shaped tunnel is also popular with kids. They are always attracted by the tunnel game.
In the front of the indoor playground part, there is a resting area designed there for parents to have a rest when kids play at the indoor playground. At this area, the food and the beverage can be offered.
This indoor playground equipment is more suitable for kids around 3-8 year-old. The equipment inside indoor playgrounds can be designed and customized according to kids' age range. Some of the attractions don't fit for smaller kids such as the adventure game, Three-floor slides, rotating machines or high space tunnels.
Facing different ages kids, we need to make different design scheme for them. In one hand, we need to think about their safety problem. In the other hand, we need to think about playablity of our equipments. An indoor playground should be designed with attration and fun. Only by this way, can more and more children be attracted by your kids park.