Candy Theme Indoor Playground Case in Shanghai
Views: 34 Author: Site Editor Publish Time: 2018-04-05 Origin: Site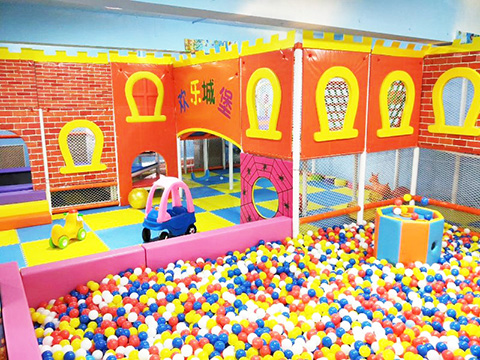 We did a project of Candy Themed Soft Indoor Playground in Shanghai and this article will show you the process of customization process of the theme indoor playground and its end product.
Mr. Wang called us and told us that he would like to make a kids indoor playground, which is candy theme indoor playground. We asked him for his playground pictures and then we gained a blue print of his playground from him. According to his CAD drawing, we got the size from it. As can be seen on the pictures, he required us to add balls pit, cartoon windows, princess car, trampoline, etc..
His indoor play zone is large. It is not only filled with playground items, but needs play area to inject fun in to it. So we suggested him to make a play area into the playground so that the indoor playground will be more attractive. After listening to our advice, he required to add the toddler play area and handwork area.
According to his requirement, we designed the scheme picture for him. In addition, we sent the pictures to him for confirmation. The designing pictures attract him and he decide to do this one. Then we manufactured the indoor playground after he paid us the deposit.
The manufacturing time of candy theme kids indoor playground is about 10 days. After we finished manufacturing, we took some photos of the playground items and sent to him for confirmation. After he confirmed and paid the balance, we packed all of the ocean balls, items and accessories and transported them by sea. The last step is installation. They have the own techs to install the theme indoor playground equipment, so we supply the drawings and video for installation, it takes about two weeks.
The picture shows you the Candy Theme Indoor Playground. The two popular areas are filled with fun. There is a toddler area in the candy theme indoor playground, which is prepared for kids to study or have a rest inside when they are tired. The play sets include handwork desks, on which there are plastic lines for kids to play or do handwork. The building block pits are in the handwork area as well.
After several months, Mr. A gave us the feedback that children like the indoor playground and typically there are lots of kids crowding there. Especially the study area and toddler area, lots of children enter the two play areas to study or rest. Handwork desks and building block games appeal to more and more kids.
We will prepare a lot of playground accessories for customers for maintenance after long-year use. The warranty of kids indoor playgrounds in our company are two years. All of our playground equipment products are certificated with ISO9001, CE, TUV, SGS, etc..
As the picture shows, these are our packing items. If there are any questions when using it, you can contact us all the time. We will make full effort to tackle all the problems including maintenance.
As a professional China indoor playground manufacturer, we provide worldwide customers with customized theme indoor playground, such as jungle themed soft indoor playground, private ship theme indoor playground, ocean theme soft indoor playground, etc.. All you need to do is send us your custom CAD drawings, and we'll have the best solution for you.