Children labyrinth Indoor Playground Case from Mr. Jeff
Views: 54 Author: Site Editor Publish Time: 2018-04-06 Origin: Site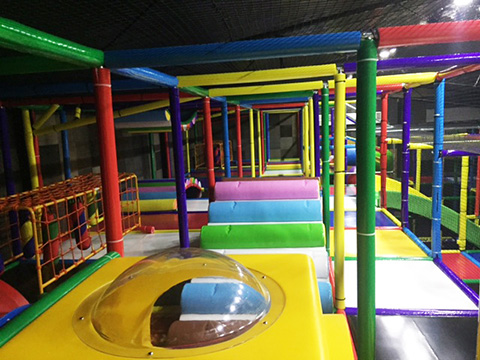 Mr. Jeff has bought the Labyrinth Indoor Playground from our company not long ago and this article is about the process of ordering the indoor playground equipment.
Above all, we obtained a blue print of his indoor playground from him. From his CAD drawing, we knew the length, width and height of kids playground site. The customer told us that he would like to add obstacle area and pneumatic gun area in the custom indoor playground. There is a hole in the platform, when kids are passing it. Therefore, he also required a labyrinth indoor playground. And then, he sent us some samples, but he needs more colorful customized indoor playground.
Confirming the size of the playground and its theme, items and area that he required, we customized the indoor playground for him for free. He also demanded to add eight punching boxes into it to enhance the adventure difficulty, which also is called as "Forest adventure". Then we manufactured the custom kids indoor playground after he paid us the deposit.
The manufacturing time took about 8 days. He confirmed those playground areas and items he chose, and told us he is content with them. After he paid the balance, we packed all of platform, items and accessories and transported them by sea. The last step is installation. He told us he hasn't got any techs for the installation of the children indoor playground, so we contacted three techs to help him install indoor playground equipment immediately.
As we can see on the picture, this is the pictures of the Labyrinth Indoor Playground. The indoor playground is covered by safety nets, which can protect children's safety. There is a most popular area that is pneumatic gun area. Soft bullets will be shot from the playing guns. When children are walking through the playground area, they will feel so excited. There are some long tunnels installed at the custom theme indoor playground. The structure of this indoor playground is made from steel pipes and platforms.
After several months, Mr. Jeff gave us the feedback that children like the labyrinth indoor playground and typically there are lots of kids crowding there. The adventure games attract lots of kids to visit there again and again. As the survey, most of children are fond of the pneumatic gun area. It is said that is an exciting play area.
We will prepare more playground accessories for customers for maintenance after long-year use. The warranty of kids indoor playgrounds in our company are two years. We have to put safety firstly, all of our playground equipment products are certificated with ISO9001, CE, TUV, SGS, etc., which proves our products reach the standard.
As a professional China indoor playground manufacturer, we provide worldwide clients with customized theme indoor playground. All you need to do is send us the CAD drawings of your play site, and we'll have the best scheme for you.