Commercial Amusement Park Indoor Playground Equipment in Nanjing
Views: 18 Author: Site Editor Publish Time: 2018-10-18 Origin: Site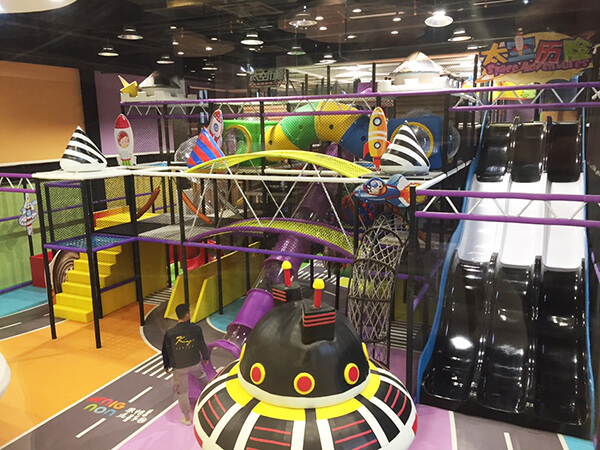 Indoor playground, as a kind of kids play area, can be seen in every public place. They are various and colorful and include a lot of play games. When businessmen choose indoor playgrounds, they generally select special designs. Distinctive designs can totally catch kids attention and let them visit. This article is written to show a unique design indoor playground.
This indoor playground is a little different from usual and normal ones. You can see the indoor playground from the pictures. The indoor playground is mainly combined by these equipments. The first one is a spiral slide, which is installed on the place where the height is about 4 meters. The color of the tunnel pipe is transparent, which is more convenient for parents to see kids when they are playing on the spiral slide. Its height is higher than ordinary one, which also brings excitement for kids.
There is an game guns area. It is for children to practice and improve their attention, shotting the targets in front of them. There are not too many indoor playgrounds to install this kind game at their space. It is suitable for the children who are more than 8 years old.
This is a creative designed swing. It is made by the shape of peanut. We call it "Peanut swing". One peanut swing can accommodate two kids. Large and special shape are the point to attract kids. There is one parts that are manufactured and made from wooden pipes. This playground is space theme indoor playground with black, white and purple steel pipes. With the wooden color, the whole indoor playground looks not monotonous.
There are two kinds of large slides can be seen in the pictures. The first one is the red one, which is the vertical big slide. It is steeper and more excited than the second one. children can slide down from 2.8 meters height platform. The second one is three-way big slide painted with white and black colors. This kind of slide is normally made by fiberglass.
Next part is the ocean balls inhaling machine. That is a machine that can inhales the balls into the pipes and send them to the top of the machine. There is a big entrance on the machine, at which balls will be blown out of the pipes.
From the feedback of the customer who purchased this indoor playground, there are two equipment attract most kids. They are plane model play house and UFO rotating merry-go. Because of the unique and special shapes of them, kids have the desire to enter and see what is inside. UFO shape rotating toy is eletronic games and can move automatically.
The last one game that is worth mentioning is the soft slide with swim ring. We call it "Mock skiing game".It is mainly used by attaching the swim laps around bodies and slide down from the top. This game is similar to ordinary slides.
The whole playground looks like a castle with abundant games. At first sight, both parents and kids would be attracted by the structure of the indoor playground. This adventure labyrinth has got lots of praise from customers. An indoor playground needs not only a beautiful appearance, but various and adventurous games. Good appearance is the first step to attract customers, but the interesting items should be the core of keeping cutsomers visit again. More information, pls feel free to contact us.