Customized Amusement Park Indoor Playground Equipment
Views: 41 Author: Site Editor Publish Time: 2018-07-31 Origin: Site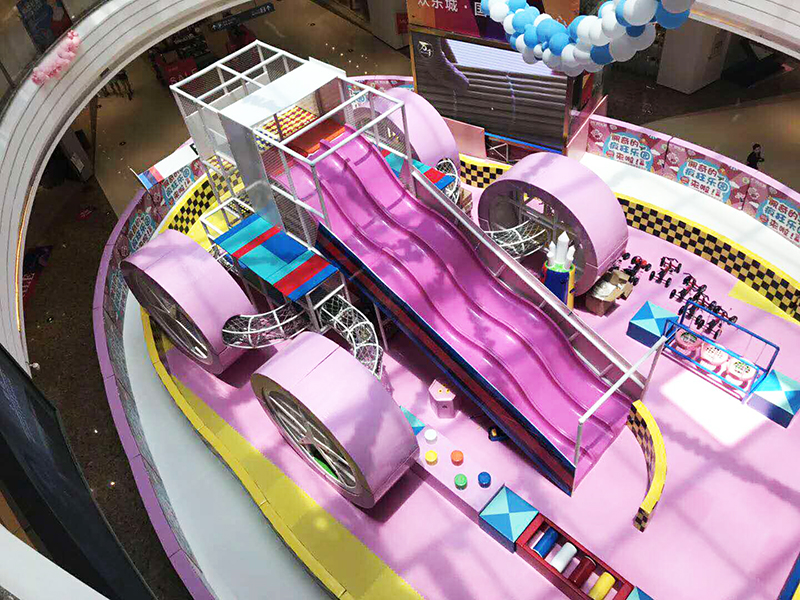 As we know, indoor playgrounds are typically designed as these theme. Such as jungle theme, ocean theme, candy theme, ice & snow theme or pirate ship theme. Pirate ship theme is more special than others. Now we would like to share an attractive example made by our company. It is designed as car shaped theme with pink colour.
This example was purchased by one of customers from China Mr. Lin. He was still searching for a design, which can catch all of kids' eye and includes a lot of play equipment inside it. In a word, the design must be pleasant to eyes and useful as well. We were finding so many pictures of our designs for him,but there is no one can make him satisfied. Looking at his space CAD drawing, we were whim and told him a scheme that is to make a indoor playground with "car theme". According to the space, we told designer what equipment should be put into and the shape we want. When the design was finished,not only us but also the customer thought it is very amazing.
We introduced all of the equipment to him detailedly. As we can see, In the middle of the space there is a three-ways long slides. Kids can slide down from a high place, which will be more exciting than a short ones. There are four wheels installed at the two sides of the long slids. The wheels can't be moved but kids can climbing up to the second floor by there. Every wheel connects one iron tunnel, by which kids can climbing to the platforms underneath the three-ways long slides. About the platform, we use the net grid platforms. This kind of platform is more expensive and durable than the ordinary ones. The two platfroms under the slides are thickened platforms. Durable platforms can prove the safety of indoor playgrounds.
There are many attractions on the ground as well. They are all challengable and adventure games. For example the adventure obstacle game on the ground can be used for kids to have a match.The game tends to practice children's competitive ability. The another one on the left is wheels swings games, which are for kids to sit on them and swing high as swings. The punching bags area and swings area are all for adventure. We added some racing car shaped bycicles into the laybirinth. Children totally can drive them by their own.In one hand, the bycicles add more fun to the labyrinth. In another hand,they can fit the theme of the indoor playground as car theme.
As expected, the indoor playground is popular with lots of kids. When the indoor playground was installing, many parents have been crowding around the indoor playground with their kids. As customers'feedback, they barely see this themed indoor playground ever before. It is not only special on its style and shape but also it is a lasting appeal space.
Nowadays, indoor playgrounds can be seen everywhere. It is not something newfangled.If you would like your indoor playground to be "a big frog in a small pond", you can try to make a special theme indoor playground. We are the expert manufacturer for indoor playgrounds. If you have the intention to make an indoor playground or you used to think about it, welcome to contact us and know more details.