Customized Ocean Theme Kids Indoor Playground Equipment
Views: 40 Author: Site Editor Publish Time: 2018-07-06 Origin: Site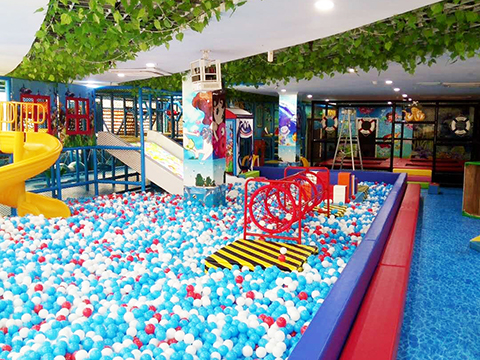 The colour/theme of kids indoor playground can be jungle theme, ocean theme, candy theme, ice & snow theme, space theme, ball pit theme, pirate ship theme or customized as customers' demands. Ocean theme is one of the popular indoor playground theme.
As the photos shows, this is one real case of kids indoor playground that we designed and manufactured for customers. The play area of ocean theme kids indoor playground is separated into different areas and charged separately, it include soft play structure with ball pit, handwork area, rest area, sand pit, soft building block area, toddler area, trampoline park and electric toys. The project in the playground is rich and interesting.
At the beginning, the customer give us a cad drawings of play site, and tell us that he like the soft play structure, sand pit and headwork area. Because the play site is in a mall, we recommend to add the ball pit, trampoline and elelctric toys. Aafte all details is confirmed, our design team customize the indoor playground according to the play zone size and demands, and the accounting department calculate the cost of indoor playground, shipping and installation. The customer need the kids indoor playground urgently, so we accelerate the production process, it just takes about 20 days for production, shipping and installation.
For the soft play structure with ball pit, it's the main play area in the custom playground. The item in play structure include step-by-step ladder, projection slide, baby swing, arc rainbow bridge, pneumatic gun, spiral slide, single-plank bridge, soft play, obstacle, etc.. There are some just to go play item in the ball pit. The slide is made from fiberglass, which is more durable than plastic one. In ocean themed playground, the mats are EVA ocean wave mats. Ocean wave mats more emboby the image of "ocean theme". The soft play structure is suitable for the children of 3-13 years old.

For children of 1-3 years old, there are a lot of soft items at the customized toddler area, such as soft play items for climbing, swing and sliding, babay car, soft building blocks, headwork area and so on.
The customized trapoline park in the indoor playground look exciting and eyes-catching. As the feedback of the customer, this indoor playground has attracted lots customers only two weeks. Every kid reacts excitement and suprise after see the whole space. Such a grand space brings more and more customers for Mr Li day by day.
Xiujiang Playground expand the production scale this year, can meet the diverse needs of customers. If you have any questions or need more information, pls feel free to contact us, we will try our best to you help you. Looking forward to hearing from you!