EVA Building Blocks are Popular in Indoor Playgrounds
Views: 4 Author: Site Editor Publish Time: 2018-03-27 Origin: Site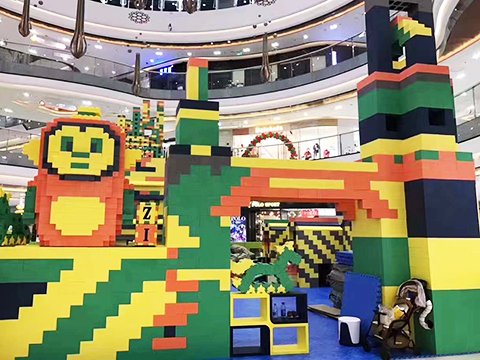 The EVA building blocks were introduced to China in 1970 and have been widely used in the light industry due to their excellent convenience performance, safety performance, and excellent water and fade resistance. And now, EVA building blocks can be seen in many kids indoor playgrounds.
EVA material is non-toxic, harmless, soft, waterproof, non-fading and flexible. It is the safest, most convenient and high-quality light industrial raw material in modern times. Applied to children's products, it can ensure that children enjoy playing without any harm at the same time. It avoids the traditional play toys that are hard and easy to hurt. It is easy to injure the paint surface, and the body is easy to loose.
EVA is a new type of environmentally-friendly plastic foam material with good buffering, shock resistance, heat insulation, moisture resistance, chemical resistance, etc., and is non-toxic and non-absorbent. Products through the national 3C certification. If your children is small, you can rest assured to let him play in this building blocks in the indoor playground.
The building blocks made by EVA are light, soft, non-fading and non-leaking, and will not cause any harm to children. Moreover, due to its special properties, EVA blocks will not cause large damage under high temperature, blisters and kneading. The degree of deformation, so get the favor of consumers, replace the traditional trend of wooden building blocks.
The features of EVA brick is as follow:
1. Biodegradable: Does not cause harm to the environment when discarded or burned.
2. The price of EVA is more expensive than PVC.
3. Lighter weight: The density of EVA is between 0.91 and 0.93, while that of PVC is 1.32.
4. Odor-free: EVA does not contain ammonia (Ammonia) or other organic odor.
5. Does not contain heavy metals: in line with the relevant international toy regulations (EN-71 Part 3 and ASTM-F963).
6. Phthalate-free: Suitable for children's toys and does not produce plasticizers to release the danger.
7. High flexibility and toughness: a very wide range of applications.
8. Super low temperature (-70C): suitable for icing environment.
9. Resistance to water, salt and other substances: in the application of a large number of applications can be maintained.
10. High heat paste: can be firmly attached to nylon, polyester, canvas and other cloth.
11. Screen printing and offset printing: can be used for more fancy products (but must use EVA ink).
Now more and more customers ask us to add the EVA buildings blocks area in their outdoor and indoor playground site. If you want to add them in your kids indoor playground or build a new toddler playground with EVA buildings blocks, please feel free to contact us, we will do our best to help you.