England Theme Indoor Playground Equipment Case
Views: 32 Author: Site Editor Publish Time: 2018-07-19 Origin: Site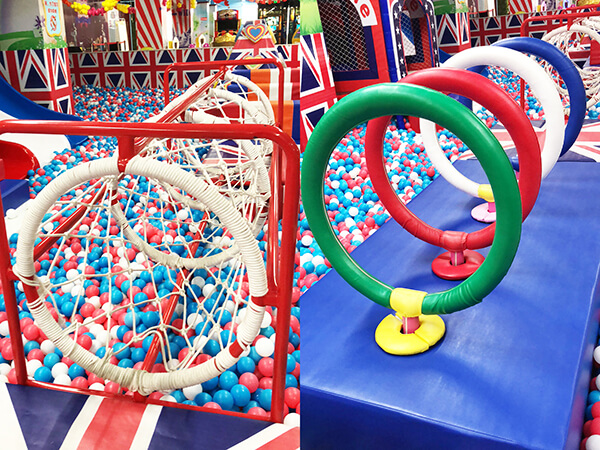 England theme indoor playground equipment is one theme of our kids indoor playground products, and loved by many clients and children. The popular theme/colour of kids soft indoor playground include ocean theme, jungle theme, candy theme, ice & snow theme, pirate ship theme, ball pit theme, space theme, or customized according to customers' demands.
This indoor playground equipment case is one playground we manufactured and installed in GZ. The play zone size is up to 300 square meter in a shopping mall. The customer tell us the dimension of the play site, and pick some kids indoor playground items in the playground, such as ball pit, toddler area, handwork area, electric toys, just to go item, spiral slide, tube slide, climbing tunnel, etc.. Then our design team customize the playground design drawings for him for free according to the requirement.
Everything is going well. We confirm all details of design drawings, and draft the contract. After the customer paid the deposit, the production is arranged right now. It takes about one week for us to prepare the kids indoor playground equipment. After the production is finished, we send the details of packing to him for confirmation. Ultimately, we shipped the kids theme indoor playground by truck after he paid the balance payment. And it takes about 8 days for our technician to install the indoor playground equipment for the customer.
As we can see on the above photos, these are the photos of the theme indoor playground equipment. The main playground equipment at it is the play structure with three different colors, blue, red and white, the large balls pit with inflatable toys and just to go items, rainbow ladders, electric toys, spiral slide, step by step ladder, tube slide, plastic toys, etc.. There are plastic desks and bookshelves at toddler area. Children can not only study here but also have a rest here. The fences are used for separating the study area and indoor soft playground. The play structure of theme soft indoor playground is made from steel pipes, foam tube, zip ties, platform and other accessories.
A few months later, we got the feedback from the customer that children all like the kids soft indoor playground so much. They are fond of playing on the spiral slide, which is exciting. The efficiency of his business is also satisfying. When the holiday come, the indoor play area will be crowding with children and parents.
As a professional China indoor playground manufacturer, Xiujiang Playground Factory provide worldwide clients with customized theme indoor playground, we also increase the number of production lines, the total size of our factory is up to more than 20,000 square meters area. And we have branches in Beijing, Nanjing, Changsha, Lishui, Wenzhou and Guangzhou. In this way, we can provide better service and kids indoor playground equipment to our customers.
More information, please feel free to contact us, we will do our best to help you.