Guide To The Safe Use of Trampolines
Views: 6 Author: Site Editor Publish Time: 2018-03-07 Origin: Site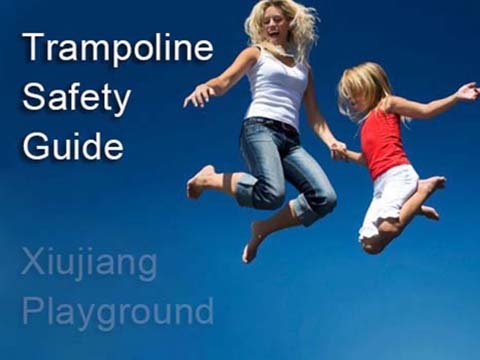 Trampolines are springing up in kids indoor and outdoor playground. Trampoline offers excellent aerobic exercise and general physical fitness, but is it really safe? Trampoline park can be an enjoyable and healthy activity for children as long as you pay attention to the right way to play it.
The correct way of playing trampoline:
1. Remove street shoes / wear sports socks before you go to the trampoline equipment
2. Empty your pockets entirely
3. Maintain one person per square of trampoline park equipment
4. Walk onto and off the courts
5. Be in control of your body at all times
6. Perform at your own risk. Flips and other tricks can be dangerous
7. Be aware of those around you and jump with people that are of similar age/size
8. Master the fundamental of single trampoline jumping before moving onto more advanced skills, such as aerial or flipping trpe skills
9. Land on the first trampoline equipment next to the trampoline wall you bounced off of, when bouncing and flipping off trampoline side walls
10. Follow all park rules and the Court Monitor's instructions
The wrong way of playing trampoline:
1. Land on your head or neck
2. Wear wet clothes or body paint
3. Have anything in your mouth (gum, candy, etc.)
4. Touch any perimeter netting or top pads
5. Throw balls at another jumper's head or neck area.
6. Do more than two single flips in a row
7. Double bounce or affect another jumper's bounce in any way
8. Push, tackle, run an flat surfaces, race, or engage in horseplay of any kind
9. Sit or lie on the court. If you are tired and need to rest, you must exit the court
10. Attempt and skill or activity outside of your personal limitations, abilities or skill level
11. Jump if you have health limitations, are under the influence of alcohol, drugs or if you are pregnant
12. Jump if a court monitor in not present
Above are the things you need to pay attention to while playing in trampoline park. In addition, children over the age of six can be allowed to play trampoline. You also need to notice do not use a ladder or any other device that would provide access by small children. Finally, make sure an adult is always around to supervise, do not leave your children alone on a trampoline equipment.
For more China trampoline park equipments, you can contact us!