How to set up an indoor playground for children at home?
Views: 104 Author: Site Editor Publish Time: 2018-06-06 Origin: Site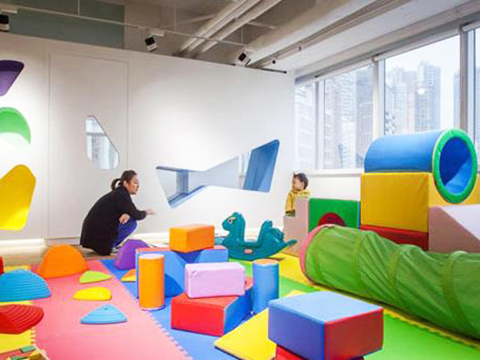 As parents, you may do many things to make your house a kid's paradise, such as swing and watch TV at the same time, a cute little cottage equipped with a quick escape route, relax in an enormous hammock, gymnast in training, a DIY jungle gym to monkey around on and so on. Now Indoor playgrounds for children are popular locations for parents with toddlers and young kids. These gyms offer a fun secure location where kids can challenge themselves and learn new skills, so more and more families are considering to set up an indoor playground for children at home. Below is a list of key points to set up children indoor playground.
1. Find A Location/Play Site
Because the location is not in mall or shopping center, it will not be crucial, but should be neat and regular. It's can be in the corner of the living room, or a separate children's room, it depends on you. We advice the play zone size should be >20 square meter. The standard height of each story is 1.4meter. For a 2 or 3 story play sturcture you will need at least 15 feet (about 4.6meter) of unobstructed height in your building. Also look for any obstructioin in the site where the play structure will go.
After the location is confirmed, you should carefully measure the size of the play zone, it's import to ensure the indoor playground is suitable for the location.
2. Design Indoor Playground
It's decided what the soft play items you want to build in the playground, such as long slide, ball pool, trampoline, tube slide, baby swing, spiral slide, chain bridge, rainbow bridge and so on. The theme/colour also can be customized according to your demands, the popular theme is ocean theme, forest/jungle theme, candy land theme, zoo theme, space theme, etc..
Getting a floor plan or measurements of your play site, the factory design team can customize the indoor playground as your demands. In general, the design team will continue to revise the design draiwngs until you are satisfied with it.
3. Ordering, Production & Shipping
After the design drawings is finalized, you will sign a contract with the indoor playground manufacturer and pay the deposit. The delivery time is about one week, and the cargoes always shipped by sea. The international shipping agent always can provide full shipping services door to door for your playground equipment includinig customs clearance.
4. Installation & Maintenance
After production and delivery, many indoor playground equipment manufacturers can send installation technician to do installation in abroad. You can also look for the installation technician who has rich installation experience. You also need to check the equipment regularly after installation. This is very important for the safety and security of indoor playground equipment.
YongJia XiuJiang Playground Co., Ltd. has many years manufacturing experience of kids playground equipments. The main products include Indoor Playground Equipment, Trampoline Park, Ropes Course, Educational Toys, and all products are certificated with ISO9001, CE, TUV, SGS etc.
We can customize design all the details, size and play equipment just as you want within your budget. More information, please not hesitate to contact us.