Is Indoor Playground Equipment Prevalent Now
Views: 9 Author: Site Editor Publish Time: 2018-01-20 Origin: Site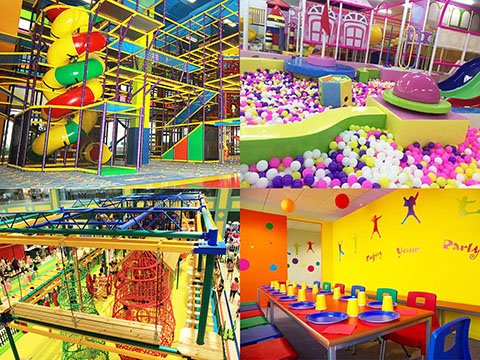 Now, indoor playgrounds have a lot of children's activities, from "edutainment" venues for kids to learn while they play, to exciting theme indoor playground, soft indoor playground for toddler and exciting rope course, there is something for every type of child. You can even play basketball and football in the indooor playground!
Truly, indoor playground equipment is one of the most prevalent thing now. This list contains details of the best things for children to do in soft indoor playground, with a handy age range so you can find which ideas are suitable.
Ages: toddlers and children up to around 12 years old
If you want a guaranteed hit for the little children in your family, the Xiujiang indoor playground is a good place to go. Inside, you will find a big play zone of activities, with a large climbing structure, little kids soft play area, sand and ball pit area as well as an arts and craft centre and so on.
Ages: 4 years and up
The trampoline park is always with foam pool/ball pit and climbing centre. The huge indoor playground is popular with children and teens, and is open to everyone aged three and older (young children require adult supervision). There are trampolines of all kinds: some have padded walls so you can practice your Park Coeur flips and jumps, others are slanted at a 45 degree angle, others land into a crash mat so you can attempt crazy tricks without even the slightest worry of getting hurt.
3. Rope Course
Ages: 4-12 years old
Rope course meet a number of educational, developmental, and recreational goals. High ropes course and climbing programs generally focus on personal achievements and ask participants to confront their personal fears and anxieties. Challenges may be physical and/or emotional. All participants will wear safety belt and helmets, that will ensure their safety. Many indoor playgrounds have this rope course project.
4. Kids Town
Ages: 3-12 years old
Kids Town is the most innovative addition to the 'edutainment' scene in indoor playground. This is unlike anything we have seen before, the level of fun has been raised to a brand new level. Kids Town allows children to try out a range of activities in a model city. Popular "jobs" include playing doctor at the miniature hospital, fighting fires, policing the streets or learning how to make sushi like a master chef.
There are many other play items in the indoor playground or outdoor playground, Yongjia Xiujiang Playground Co., Ltd. is a professional indoor playground manufacturer engaged in the research, development, production, sales and service of indoor playground, trampoline, rope course equipment, soft play entertainments for nearly 15 years. If you'd like to know more information or build your own indoor playground, you can contact us for more product details.