Jungle Theme Indoor Playground Case from Mr. Wang
Views: 49 Author: Site Editor Publish Time: 2018-03-20 Origin: Site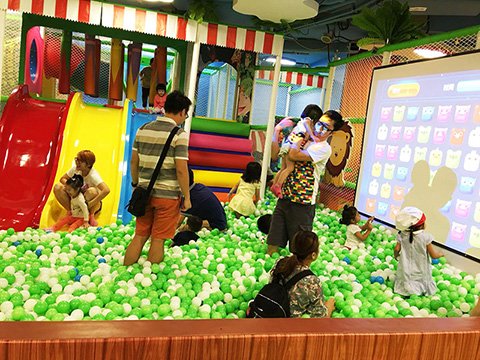 Mr. Wang has bought one jungle theme kids indoor playground from our company two moths ago and this article is about the process of ordering kids indoor playground equipment.
First of all, we gained a CAD drawing of indoor playground from him and then confirm the size of the play zone. According to the size, theme and items that he required, we customized and designed the indoor playground for him for free. In addition, after the kids indoor playground design are confirmed by him, we were going to manufacture it. But before that, he paid us the deposit first. After we received it, we manufactured it as soon as possible.
The manufacturing time of kids indoor playgrounds is about 10 days. After we finished manufacturing, we took some photos and send to him for confirmation. The balance should be paid before shipping the indoor playground equipment. After he pay the balance, we packed all of the playground items and accessories and transport them by sea. The last step is installation. We sent technicists to his the play area and installed the theme indoor playground equipment for him.
As we can see on the picture, this is a jungle theme indoor playground. The frame of the children indoor playground is made by steel pipes and foams pack around the pipes. The mats are made from environmental EVA. There are some playground items that are added into it., such as slides, balls pit, ocean balls, trampoline, rainbow ladder and single-plank bridge. These are main and ordinary items of indoor playgrounds, as well as the main part of indoor playgrounds.
There are doll houses and small car at the left side of theme indoor playground. The doll houses are used for role play games. According to the different place, kids can pretend the different characters. There are sand pool and desks at the right side. The sand at the sand pit is made from semen cassia, which is safe for kid and doesn't matter to eat a small mouthful of it. Because sometimes kids probably eat by mistake. The desks and chairs are prepared for kids or parents to have a rest or study. The electronic roll horses are in the front of toddler indoor playground. The sheep shaped car can move and waggle after you insert coins.
The machine that is by their side is clip doll machine, at which there is a lot of dolls. After inserting coins, you can handle it andcatch the dolls. The coconut tree is electronic toys as well. It can rotate like merry-go-round.
When customers order our indoor playground, we will prepare a lot of playground accessories for customers for maintenance after long-year use. The warranty of kids indoor playgrounds in our company are two years. We put the safety in first. All of our playground equipment are certificated with ISO9001, CE, SGS, TUV.
As the picture shows, these are our packing items. If there are any questions when using it, you can contact us all the time. We will make full effort to tackle all the problems including maintenance. The accessories include steel pipe, cast iron connection, foam padding safety nets and tensloned web etc..
As a professional China indoor playground manufacturer, we provide worldwide customers with custom theme indoor playground. All you need to do is send us your custom CAD drawings, and we'll have the best solution for you.