Kids indoor soft playground case
Views: 59 Author: Site Editor Publish Time: 2018-11-16 Origin: Site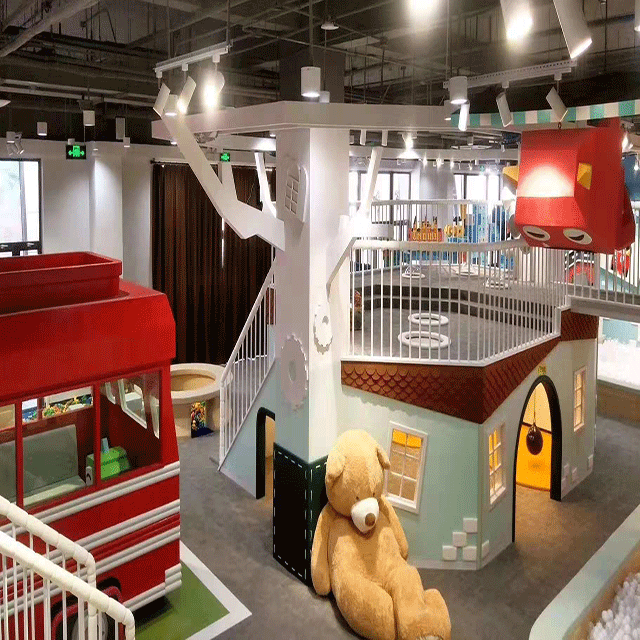 The article is for sharing one of unique design indoor playgrounds. The indoor playground includes the special design and decoration, which is made with uncommon colors and theme. The total indoor play castle is made with Macaron theme with dinosaur style.
The first one, can be seen on the photo is a short and wide slide with dinosaurs decoration armrests by the two sides. The ocean balls put under the slide are painted with white and transparent. The edge of the balls pit is made from wooden material and soft pad. The armrests beside the slide and the ladder are the same materials with the edges of the balls pit. There is an attic leading to the second floor. Walking through the aisle, you can walk into the small cartoon house whose height is two layer. Kids can go down directly.
The second one is decoration wall, which is set beside the balls pit edge. The wall is decorated with three-dimensional windows, doors and roof. On the wall, there are two entrance. One big entrance is openned under the aisle. The two doors can lead to the same place.
The red car on the left is a toy car for kids to sit and rest. There is a space sand table can be seen on the left side as well. Using them, kids can mold a lot of animals and patterns. On the right side, there is an attic as well. Down on the attic, it is a rest area. Kids come into from the doors and enter. We can put some toys or tables and chairs in the house.
There is a traffic small town installed here. We make the floor with zebra crossing, which is like the road. The floor is decorated with road and zebra crossing rubber flooring. There are some toys cars put on the floor. Kids can zoom the cars through the traffic small town area. This area is decorated and painted with many pictures and patterns.
The last area we have to mention is the locomotive playground. As the feedback from customers,the locomotive attracts a lot of kids to come in. Kids would like to climb through the whole playgrounds and stay at the small toddler area most.
We are professional manufacturer of making indoor playgrounds. We can offer you the wonderful design and business proposals. If you would like to start an indoor playground, welcome to contact us.