Ocean theme Indoor Playground Case in GZ
Views: 30 Author: Site Editor Publish Time: 2018-04-26 Origin: Site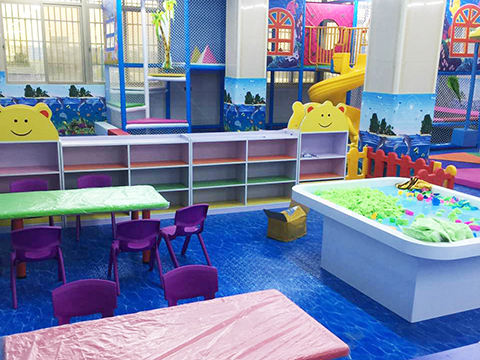 Ocean theme soft indoor playground is one theme of our kids indoor playground products, and loved by many clients and children. Recently, Mr. Liu ordered his own ocean theme kids indoor playground from us, you can learn more about his kids playgrounds in this article.
Recently Xiujiang Playground Factory increase the number of production lines, the total size of our factory is up to more than 20,000 square meters area, and we have branches in Beijing, Nanjing, Changsha, Lishui, Wenzhou and Guangzhou. In this way, we can provide better service and kids indoor playground equipment to our customers.
Mr. Liu contacted our Guangzhou Branches not long ago, says he have a play site of about 220 square meter in a shopping mall, the length and width is about 16m by 14m, the height is about 3.5m. He like ocean theme soft indoor playground, and choose some kids indoor playground items in the playground, such as ball pit, building pit, toddler area, slide, handwork area, electric toys, etc.. Then our design team customize the playground design drawings for him for free according to the requirement.
Mr. Liu gave us the correct and clear requirement, so we finished the designed picture within 24 hours. After the confirmation with the customer, we changed the designed pictures again and sent to him for reference. Finally, he accepted our suggestion and decided to make soft indoor playground of ocean theme.
After the contract is confirmed, he paid the advanced payment for production. It takes about 5 days for us to prepare the kids indoor playground equipment. After finished, we took a video and sent to him for confirmation. He checked all of the playground equipment inside the theme indoor playground and then confirmed it. What he likes so much is the spiral slide and study area. He needs the study area for kids to have a rest there. Ultimately, we shipped the kids theme indoor playground by truck after he paid the balance payment. And it takes about 6 days for our technician to install the ocean theme indoor playground equipment.
As we can see on the above pictures, these are the pictures of the Ocean theme Soft Indoor Playground designed for Mr. Liu. The main playground equipment at it are three-ways slide with three different colors, blue, red and white, the large ocean balls pit with inflatable toys, rainbow ladders, electric toys, S shape slide, step by step ladder, water bed, etc.. There are plastic desks and bookshelves at the study area. Children can not only study here but have a rest here. The fences are used for separating the study area and indoor soft playground. The structure of this ocean theme soft indoor playground is made from steel pipes, foam tube, zip ties, platform and other accessories.
A few months later, we got the feedback from him that kids all like the soft indoor playground so much. They are fond of playing on the spiral slide, which is exciting. The efficiency of his business is also satisfying. When winter holidays or summer holidays come, his indoor play area will be crowding with children and parents. Now we are talk about a new project about kids indoor playground.
In general, we will prepare more kids playground accessories for customers for maintenance after long-year use. The warranty of kids indoor playgrounds in our company are two years. We have to put safety first. All of our playground equipment products are certificated with ISO9001, CE, TUV, SGS etc., which proves our kids playground equipment reach the standard.
As a professional China indoor playground manufacturer, we provide worldwide clients with customized theme indoor playground. All you need to do is to send us the CAD drawings of your play site, and we'll have the best scheme for you. Looking forward to cooperate with you.