Safety Standard & Quality Control of Indoor Playground
Views: 12 Author: Site Editor Publish Time: 2017-10-28 Origin: Site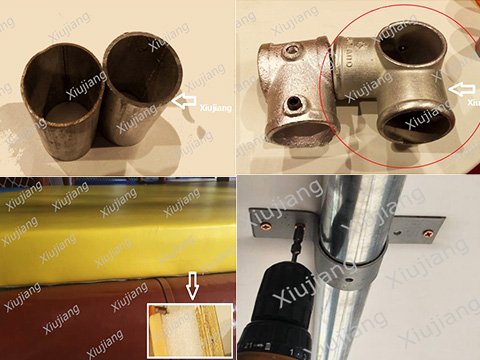 Using the finest materials and strict manufacturing standards, Xiujiang indoor playgrounds only sells safe, durable, and well-designed indoor playgrounds to our customers. And all accessories of kids indoor playground can be customized as your demands.
1. Steel Tube
a. Using the hot galvanized stainless steel tube.
b. Different options of thickness can adapt to different height and strength. (Thickness:1.2mm/1.5mm/1.8mm/2.0mm/2.2mm/2.5mm/3.0mm)
c. Tick stainless steel tube will be used where the force is large.
2. Clamps
Using cast iron clamps, which is harder and stronger
3. Padded Decks
Constructed with 3/4"(20mm)fir plywood, padded with 3/4" high density foam and upholstered in vinyl on both sides.
4. Support Rail
Fix the platform plate with a closed-type support rail, so that the platform can be firmly fixed on metal frame, and will not be deformed after a long-term use.
As a professional China kids indoor playground equipement supplier, we guarantee product quality, please rest assured to choose the playground equipement which you real need.