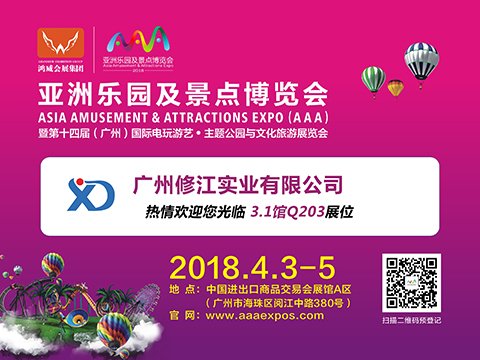 AAA 2017 Lived up to Its Reputation as a World Leading Trade Show, hosting over 500 internationally acclaimed exhibitors, such as Golden Dragon, Golden Horse, Universal Space, Wahlap, Splendid China, etc..
2018 Asia Amusement & Attractions Expo(AAA 2018) will take place in China Import and Export Fair Complex during April 3rd-5th, a 3 days' Event covering an exhibition area of 130,000m2, aims at building up the largest event for parks in Asia.
Immense Popularity & Sparkling Highlights
AAA has attracted a lot of visitors from its first day and exhibitors were busy in introducing while purchasers were busy in experiencing. Following are the highlights of AAA.
1. Thousands of Game & Amusement Equipment
Thousands of game & amusement equipment displayed in AAA brought joy to the mass and increasingly related manufacturers such as Golden Dragon, Jinma, Universal Space, Guangyang, Flying Animation Technology, Delta Strike and more, showcased various of latest products such as Fish a Fish, Jurassic Park, 10D Roller Coaster, Fishing Master and so on.
2. Gathered Virtual Reality Products
AAA 2017 has attracted a lot of VR enterprises such as Leke VR, 9D, Zhuoyuan Group, Changlai, Mantong Electric Technology and more, showcased a number of VR products such as 9D VR Experience, 9D VR products, 720°Flight Simulator and so on on site. Let's expect 2018 together!
3. Supported by Domestic & Foreign Parks Operators
Theme parks have been the main consumption object in people's leisure time and AAA has been supported by a batch of domestic and foreign professional amusement park enterprises such as Splendid China, Aircon, UniMice, Devost Intelligence and so on.
4. Collection of Water Parks Manufacturers
In recent years, water parks in China have experienced a rapid development, water parks manufacturers such as Daxin, Dalang, Wangming, Wavesurfer-AFP Technology, Proslide, Zebec and more, showcased their water amusement equipment such as Dragon Slide, Big Horn Slide, Wave Pool, Lazy River and so on.
5. Expanding Sizes of International Buyers & Sellers
According to the official data, AAA has attracted game & amusement manufacturers and professional purchasers such as WAVESURFER-AFP TECHNOLOGY, Polin Waterparks, SEMNOX SOLUTIONS, Intercard Inc, Delta Strike, Homepin and Sacoa coming from over 30 countries and regions such as America, France, Korea, Switzerland, Belgium, Turkey, India, Argentina, Dubai and so on, gathered over 1,000 professional overseas visitors such as Sun Milk Trading Company, Tekno-Set Electr Ltd, Escape Entertainment, Esinco S.A, etc., strengthened the relation between China and foreign trading.
Xiujiang Playground Factory is one of the exhibitors.
We will show the popular indoor playground equipment, which are mainly customized to drill, climb, slide, swing, jump, roll, shake and other characteristics of design-play ability, can vary hugely in terms of sizes and play features, include the following sections: soft play structure, ball pit, trampoline, rainbow ladder, building block, rainbow bridge, etc.. It can also add other play area, such as adventure ropes course, toddler area, rainbow nets, pneumatic gun, building block, electronic play items, inflatable play area, cs play area, climbing wall, handwork area, basketball/football play area, sand pit, party room, cafe area/dining area and electric play toys, which can provides fun for children ages 14 and under in a safe environment. More information, pls feel free to contact us.
Xiujiang Playground is a professional China indoor playground manufacturer engaged in the research, development, production, sales and service of theme soft indoor playground, toddler indoor playground, trampoline park, adventure ropes course, soft play and other entertainment equipment for many years.
All of our custom indoor playground equipment have following certificates:
ISO9001, CE, TUV, SGS, etc.. Our China kids indoor playground equipment have been exported into more than 70 countries, we are confident to custom design and product a safe & popular theme indoor playground for you.
Pls visit our booth at 3.1-Q203, we sincerely look forward to work with you!