What size Trampoline Park do I need in playground?
Views: 17 Author: Site Editor Publish Time: 2018-08-24 Origin: Site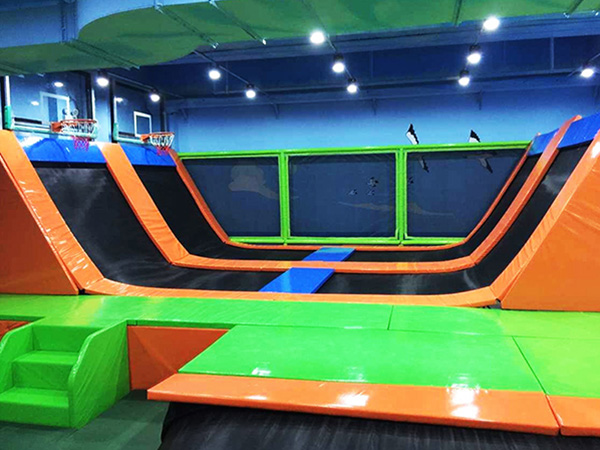 Indoor playgrounds, as a kind of amusement park in public area, are liked deeply by children.It is not only because indoor playground is a space where is full of colorful toys, but also because attractive indoor playground would give kids a lot of imagination and improve their bodies. However, one of equipments at indoor playground is indispensable, which is trampoline park.
Trampoline park is used for improving legs' muscles of children. They can stand on trampoline park and bounce and jump on it. For kids, it is exciting and thrilling, but most of people who haven't made an indoor playground trampoline don't know how large it should be made. They would like to make ones that are enough to accommodate kids as many as possible.In fact, it completely depends on the space that you get.
There are some proposals here for your reference,hope it can work for you:
1.If your space is not large, you can make a small one for several kids. For example, your space is about 40-100 square meters, even smaller than this range. You can make it about 6.25 square meters or bigger. The general small trampoline park for indoor playground is 6.25 square meters.
2.If your space is about 200 square meters or larger, you can consider to make a large trampoline park at your indoor playground. It can be bigger than or equal to 50 saquare meters. Even some of customers would like to design a half of the indoor playground as trampoline park.
3.There is one important factor influces you to decide how large is your trampoline park, which is the popularity of trampoline park. As we know, some customers say that trampoline park is not necessary equipment in their countries. Kids barely like to play them. Therefore, if you deem trampoline park is not a necessaty for indoor playgrounds. You don't have to install it at your indoor playground. You can select something which is popular equipments.
If wanting to purchase an indoor playground, you need to take the popularity of equipments into account. You can conduct a survey first and then select attractions for your indoor playground, which avoids hesitating while you are selecting playground items.
Probably sometimes it is hard to select such a large indoor play area. From finding space to selecting toys equipment, it will be a long-time process, so customers are easy to be bewildered when they are preparing everything. Don't worry about that, Xiujiang Playground Company will solve and answer all of your doubt. As a professional manufacturer, we are able to offer our durable products and expert proposals for your playground business. Please don't hesitate to contact us if you have enquiry on indoor playgrounds.