Why You Should Fall In Love With Indoor Playground Equipment
Views: 5 Author: Site Editor Publish Time: 2018-02-09 Origin: Site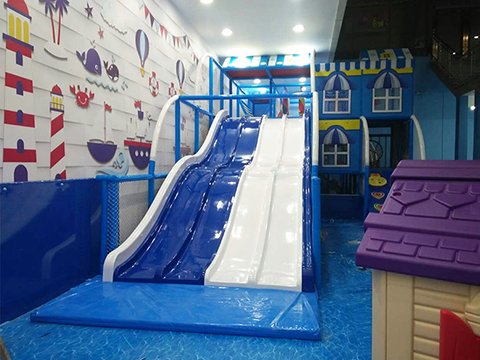 All of parents who usually take their kids to indoor playgrounds know that indoor playgrounds include a lot of items and play area. They can offer kids so much entertainment.
There are 5 reasons you should fall in love with indoor playground equipment:
1. Electronic play equipment, such as merry-go-round and electronic rocking horses, they can give kids much exciting feeling. They can sit on the play equipment and rotate on the indoor playground. Electronic play equipment is most popular with kids.
2. There are several popular play area that can be offered for kids to play. Building block area is one of them. Kids are allowed to play building block at it, which can help kids to improve their manipulative ability.
3. Toddler indoor playground is given to kids for rest. There are many play set, such as single rocking horses or play balls at the indoor play area. They can play these small items while they are resting.
4. Climbing wall is the most exciting activity at indoor playgrounds, at which kids can get to the highest top by climbing over the wall. Climbing wall will exercise children's courage.
5. CS game area is designed for kids to feel the real surroundings of CS game. It is like that kids are personally on the scene of the game, which will make children fall in love with indoor playgrounds.
There are various items at kid indoor playgrounds. The items and area shown above are just a drop of the bucket. Kids will be falling in love with indoor playground equipment after they play them.
Our company engages in manufacturing kids theme indoor playground equipment for many years, so the best indoor playgrounds can be offered by our factory. If you are interesting indoor playground equipment, you can refer to our customers' indoor playground atlas, and please feel free to let us know.